Rules guide on use of Tamileelam National flag published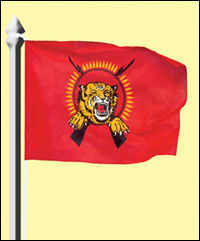 The Tiger symbol of Liberation Tigers of Tamileelam (LTTE) created in 1977, was designated as the National Flag of Tamileelam in 1990. Tamileelam is part of what is today known as Sri Lanka (formlerly Ceylon) including the coastal regions on the west, north, and eastern
portions of the island
.
LTTE Saturday released an updated version of the guide providing instructions and explaining the correct usage of the
Tamileelam National Flag
. The guide written in Tamil specifies the regulations for flying alone or with national flags of other countries, and for general handling of the flag. The National Flag has four colors, yellow, red, black, and white.